Zen based AMD Opteron processor
AMD Opteron, the upcoming processor from AMD, features x86 Zen core architecture and some details are leaked about it. According to the latest slides used by Liviu Valsan, a Computer Engineer with CERN, the Opteron is going to be a beast.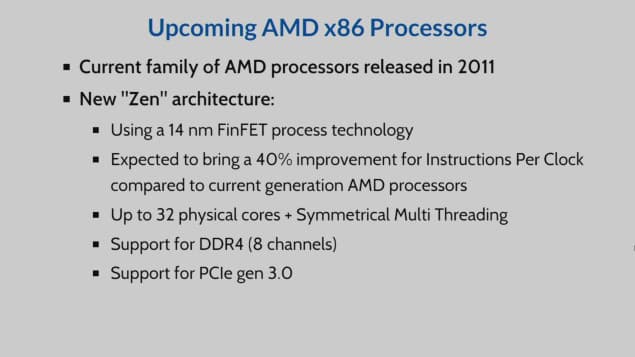 AMD has not released any update in Opteron line-up since 2011. The Opteron 6000 series processors that are available today are based on the older Piledriver architecture which was introduced back in 2012. Since, x86 Piledriver core delivers a modest update over the Bulldozer architecture, it struggles to stand near Intel Sandy Bridge architecture. So, AMD is waiting for a comeback with its new Zen based architecture. With no doubt, AMD is going to rule the processor market very soon.
AMD Exascale processor and Opteron processors scheduled
The next-generation Opteron processors is expected to deliver high core count. It is mentioned that the processor will make use of 14nm process node and so it will offer faster performance and improved efficiency. AMD is working on 2 processors now as far report: One is Opteron processor and other is Exascale processor.
It is worth remembering that Exascale processor is a APU family with multi-chip package. It is said to merge Zen cores, GCN cores and DRAM stacks (HBM), connected using coherent fabric. On other hand, Opteron processors will solely consist of a single or several CPU dies which will be interconnected. It is expected to deliver high core count and disruptive memory bandwidth. It is going to be integrated DDR4 and HBM DRAMs and high native I/O capacity.
Leaked Specifications of AMD Opteron Processor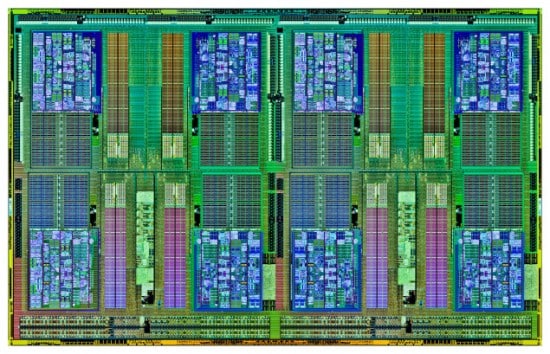 It will be based on Zen core architecture
It will deliver up to 40% improvement in Instructions per clock with 14nm FinFET technology
It will feature up to 32 physical cores and all cores will be based on the Zen architecture and will feature Symmetrical Multi-Threading.
It will use MCM design, similar to Opteron 6300 series processors
It will pack 32 cores in several stacks. It will look like a package and function like a single 32 core Opteron chip.
It will use next generation high-efficiency fabric to connect CPUs. The fabric will make sure increased data transfer and communication speed between 2 chips.
It is expected that there will be a single chip packages that can pack up to 8 cores
It will have several SKUs ranging from 8, 16, 24 and up to 32 core models. It is really interesting to have this many cores. AMD will have up to 8 core FX series processors on desktop platform.
It will support 8 channel DDR4 memory and PCI-e Gen 3.0.
AMD Opteron Processor Release date
It is expected that AMD Opteron processor will hit the market in 2017. Here we should remember that Intel Broadwell-EP platform is going to reach the market within few months. So AMD will give a tough fight for Intel as it is going to launch a high-end Opteron processor with 32 cores and 8 channel DDR4. It is strongly believed that AMD with Opteron processor will address 80% of the server market.