Details on AMD Fury X2, dual Fiji graphics card was tweeted by Scott Wasson. He mentioned that future dual graphic cards as well as CrossfireX graphic card will provide smooth gaming experience.

AMD is working seriously on launching its fastest graphics card codenamed Gemini. It will have two full-fledged Fiji XT GPUs. It was actually scheduled for 2015, but the product was delayed. AMD is working on aligning dual Fiji board launch with major VR product launch.
AMD Fury X2 will be world's fastest graphic card
The new high performance Dual Fiji graphic card will replace the current AMD Radeon R9 295X2. Since AMD has not confirmed the codenamed Gemini, it is better to use the name Fury X2 for this upcoming graphic card. The images of 2 Fiji XT GPUs are spotted by Scott. It will be the soul of AMD's R9 Fury X, R9 Fury and R9 Nano graphics cards.
Specifications of AMD Fury X2 graphic card
The specifications of AMD Radeon Fury X2, Dual Fiji graphic card are as follows:
It will feature two full-fledged Fiji XT GPUs with a total of 8192 GCN cores
It will have 8GB High Bandwidth Memory
It will have a total memory bandwidth of one Terabyte per second.
Both Fiji XT GPUs inside R9 Fury X2 will operate at clock speeds of up to 1000Mhz. The stacked 8GB of HBM VRAM will operate at a clock speed of 500Mhz.
It will target 80% boost in 4K and 2560×1440 gaming performance
It will have net frame variance of less than 20% with their frame pacing technology.
Features of XDMA, Crossfire Impressive Scaling Technology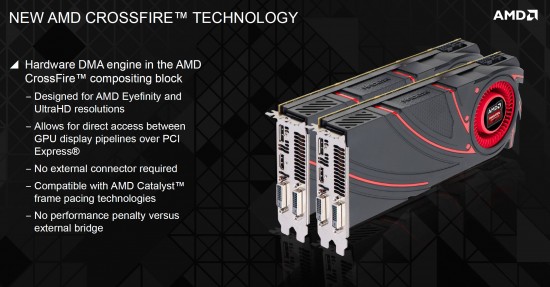 AMD has added DMA engine to the Crossfire composting block and introduced a brand new Crossfire hardware implementation. It was first used in Hawaii GPUs in September of 2013. From then, AMD has started including this technology in all its GPUs. This technology was named as XDMA by AMD. Some features or highlights about HDMA are listed below:
It is a modern approach to communicate multiple GPUs for peak gaming performance. It improves better Crossfire scaling
It includes Hardware DMA engine
It allows for direct access between GPU display pipelines over PCI Express
It does not require any external connectors
It is compatible with AMD Catalyst frame pacing technologies
It has no performance penalty versus external bridge
It also enables graphics cards in Crossfire setups to inter-communicate through the PCI Express interface. It eliminates the need for a Crossfire bridge.
It will increase gaming performance and reduce frame time variance
AMD with this Fury X2 dual graphic card is believed to overcome "micro-stuttering," problem.